by meep
First, a midyear budget cut for the Chicago Public Schools:
In a move the district acknowledged was unprecedented for the middle of a school year, Chicago Public Schools on Tuesday cut millions of dollars from school budgets, forcing principals to refigure their plans with the second semester just underway.

The cuts to CPS' per-pupil funding rate were slightly deeper than laid out last week, when the district said it would save $75 million through budget reductions. On Tuesday, the district said $85 million would be cut this school year.

The cuts, however, will be softened by tens of millions of dollars in state and federal money, much of it directed toward schools with low-income students. That means the net impact of the reductions, according to district figures, is closer to $26 million.

…..
The district in January said it was saving $32 million this year through bureaucratic job cuts. Roughly a third of more than 220 employees receiving layoff notices worked in jobs related to special education services. The district said ending its practice of absorbing the bulk of teacher pension contributions would save an additional $65 million.

CPS said those efforts, combined with a proposed $120 million worth of school budget cuts next year, will lead to savings of $335 million in its 2017 budget year.
Well, they definitely need to cut down on their expenditures.
EVERY ACTION REQUIRES REACTION
As a result, a press release from the Chicago Teachers Union. Let's see what they have to say:
CPS budget cuts threaten to gut public education and hit the neediest students the hardest

FOR IMMEDIATE RELEASE: FEBRUARY 09, 2016
CONTACT: STEPHANIE GADLIN 312-329-6250

CHICAGO—The Chicago Teachers Union issued the following statement today in response to reports of $120 million in mid-year budget cuts from Chicago Public Schools:

"The Chicago Teachers Union (CTU) has worked for more than a year seeking a serious contract offer from Chicago Public Schools. After just three weeks of negotiations, the district made an offer that relied on a reduction of more than 2,000 educators from the system, made no provision against subsequent ballooning class sizes and included nothing but the vaguest indicators of where new revenue would be found. More importantly, the terms of that offer would not have impacted the current school year or existing school budgets in any way, so we find CPS' reduction in school budgets by $120 million unnecessary and completely retaliatory, and not at all evident of some urgent crisis in our schools.

"Now that the district has finally begun negotiating in earnest, the CTU will continue to work toward a contract that will address the daily challenges faced by both students and educators, and also address the long-term fiscal crisis that threatens to gut public education in the city of Chicago. The CTU also has requested a school-by-school breakdown of today's budget adjustments to examine which communities are most impacted by the cuts, and whether attacks from Mayor Rahm Emanuel and his handpicked Chicago Board of Education will continue to be centered on low-income, African-American and Latino communities."
Well, I wonder if that's really the case.
Let's check a few numbers.
JUST THE FACTS
These are the official stats I can find. They're a year old, but we'll do what we can.
Number of students: Total: 396,683 (2014-2015 20th Day Enrollment)
Total teachers: 21,715
If we do a student-to-teacher ratio, we get: 18.3
Let's reduce the teacher count by 2000 and get the new ratio: 20.1
Now, of course class size is going to differ by grade, etc., and some teachers are probably not even in charge of an entire classroom, but have only a couple special needs students to attend to. Fine.
Even so, an increase of fewer than 2 students per class is hardly a ballooning class size.
By the way, a decade ago, there was 405,509 students in the CPS. It's a 2% shrinkage, and this is definitely not a growing population.
Oh look, this article has a graph: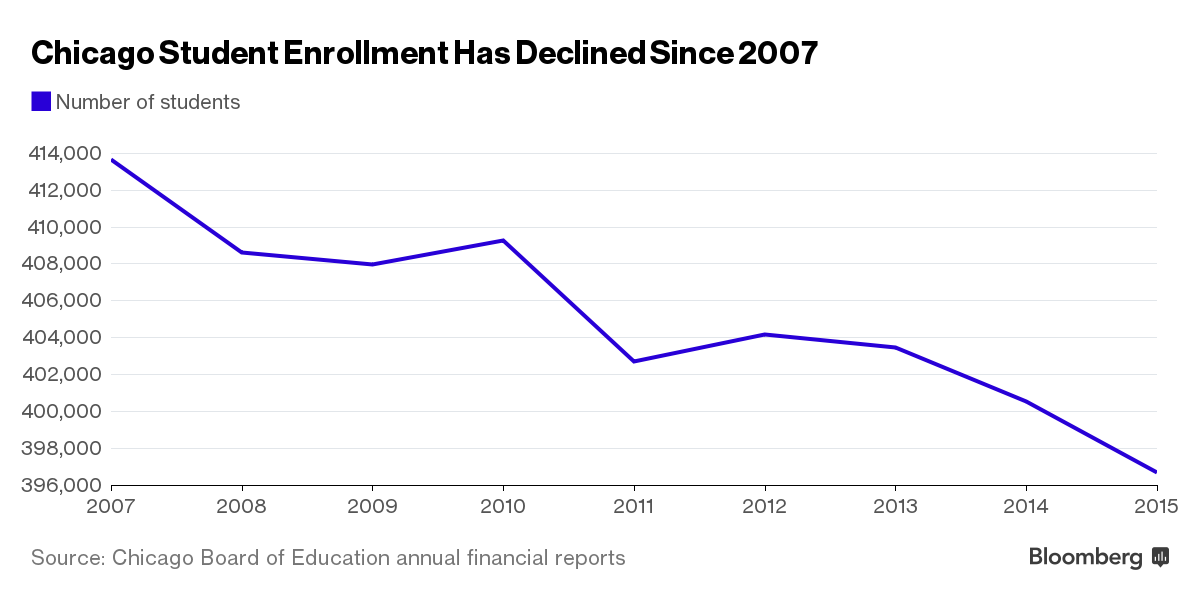 Mmmm, a little misleading due to the vertical scale. Still, you can see there's a 4% decrease from 2007 to 2015. I assume they started at 2007, because that's when the peak was. Tsk tsk y'all. Should've graphed the whole period.
This graph is about as bad: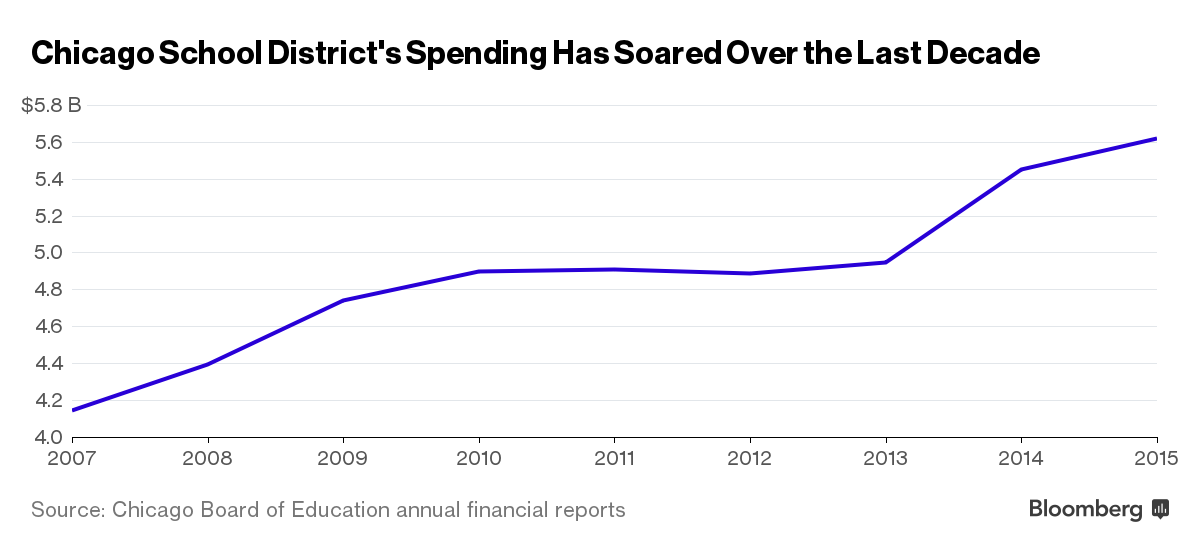 Given the scales, you'd think the relative changes for both are about the same. They're not.
Number of students decreased 4%.
Spending increased by over a third (~33%).
Can't tell that by eye-balling those graphs. Tsk tsk. You can do better, Bloomberg.
RETALIATORY BUDGET CUTS?
But back to the Chicago Teachers Union. Let's check out the other claims.
$120 million in cuts being retaliatory.
Going back to the stats:
Operating Budget
FY16 Budget: $5.69 billion
Budget sources:

Local: $2.703 billion

State: $2.057 billion

Federal sources: $0.853 billion
$120 million definitely is not indicative of a crisis situation, I will agree there.
Because it's only a 2% budget cut. That's not much of a retaliation. Especially after a more-than-a-third increase in the budget in less than a decade.
OH WOE! 2% CUT!
I can imagine cutting your toenails is more traumatic.
THERE'S A REASON THAT LOW-INCOME MINORITY COMMUNITIES ARE "TARGETED"
Let's check out the racial claim: "The CTU also has requested a school-by-school breakdown of today's budget adjustments to examine which communities are most impacted by the cuts, and whether attacks from Mayor Rahm Emanuel and his handpicked Chicago Board of Education will continue to be centered on low-income, African-American and Latino communities."
So let's go back to those stats again:
Student Racial Makeup
African American: 39.3%

Asian: 3.6%

Asian/Pacific Islander (retired): 0.01%

Hawaiian/Pacific Islander: 0.2%

Hispanic: 45.6%

Multi-Racial: 1.1%

Native American/Alaskan: 0.3%

White: 9.4%

Not Available: 0.6%
So let's see…. according to those stats, 85% of the students are either African-American or Hispanic.
Let's check out the low-income part: Economically Disadvantaged Students: 86.02%
Guys, if there are cuts, then African-American, Hispanic, or low income students will be "targeted". BECAUSE THEY ARE BEYOND THE SUPERMAJORITY IN THE SYSTEM. An across-the-board cut would, by mathematical necessity, affect more students in those categories, because there ARE more students in those categories.
It would be one thing if the system were only 15% of these particular groups, and you found out that they're taking 85% of the cuts.
That is not the situation we're looking at.
IF YOU'RE FLAILING, I ASSUME YOUR POSITION IS WEAK
This is of a piece with the CTU trying to demonize the banks over something that has little to do with their pension funds doing poorly.
They do make a good point in saying the proffered cuts don't fix the problem. That's true. Then they undermine their point by saying the cuts are retaliatory. Okay, which is it — too little or too much?
And then they go on about the majority demographics of the student body (low-income, African-American, and/or Hispanic) being targeted… by these MASSIVE 2% CUTS!
Guys, get a grip.
I agree that there is no serious negotiating here. The cuts are minimal… the ones mentioned thus far. But there will not be enough money from "new revenue" (aka more taxes … from somewhere). You can do walk-ins or walk-outs or whatever, but Quinn ain't the governor anymore. The state isn't ponying up. The bond market is making you pay.
So… what now?