by meep
I enjoyed yesterday's post so much, here's today's:
Wine will be sold in Knoxville, TN grocery stores soon:
KNOXVILLE (WATE) – Tennessee is just one week away from grocery stores debuting their wine sections for the first time, and many of them are doing last minute preparations. Some Knoxville liquor stores are anticipating a change in their business, but not necessarily for the worse.

Liquor stores are used to being the only places to go for wine, and at least half the store at Turkey Creek Wine and Spirits is dedicated to it.

"In this market we've seen interest in fine wine increase over the past 20 years probably about 300 percent. My dad got in this business in 1962 and I asked him, 'What wines did you carry,' and he said, 'We carry both of them,'" said Jeff Gettelfinger, Turkey Creek Wine and Spirits manager.

In one week they will have a lot more competition in the area as grocery stores can then legally sell wine.

…..
As places like Trader Joe's continue to prepare with just a few days left, people on both sides are anxious to see what happens.

"It's been a success. We're really excited. We're so close, and the curtain is about ready to go up July 1," said Denny.

"We're offering sales, specials, discounts, things I don't think many stores are going to be able to match," said Gettelfinger.

Trader Joe's is planning to celebrate selling wine on July 1 with an event for their customers including live music, giveaways, snacks, and balloons for the kids.

p.

There are many things that Jefferson wrote with which I disagree, but I pretty much agree with the man about wine:
"I think it is a great error to consider a heavy tax on wines as a tax on luxury. On the contrary, it is a tax on the health of our citizens."

…..
"No nation is drunken where wine is cheap; and none sober where the dearness of wine substitutes ardent spirits as the common beverage. It is, in truth, the only antidote to the bane of whiskey."
This can only be good for the health of the Knoxville citizens.
Alas, I cannot buy wine in grocery stores in either New York (where I live) or Connecticut (where I work), but I can buy beer.
And as Old Ben says: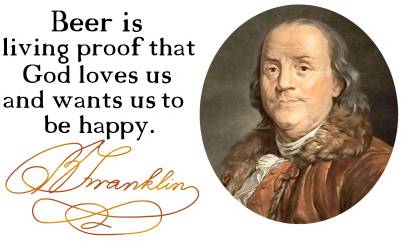 In addition:
Too bad Franklin's state has the most insane liquor laws in the country. For shame!
Related Posts
Never Forget: 100 Years Since the Russian Communist Revolution
Sunday Silliness: Soda Tax, Sierpinski Spreadsheet, and Swinish Puns
Programming Note