by meep
I may live in New York, but I like keeping up with Chicago politics (mainly because of its really bad public finance performance, more than anything else)
So, it was a little surprising to hear the following (but not overly surprising):
Wall Street Journal: Chicago Mayor Rahm Emanuel Won't Seek Re-Election
Rahm Emanuel said he won't seek re-election as mayor of Chicago after two terms marked by downtown development but also a wave of gun violence that returned the city's murder rate to 1990s levels.

The announcement was an abrupt reversal for Mr. Emanuel, who raised a substantial campaign war chest and for months had been laying the groundwork to run for a third term. But slipping popularity left him facing headwinds for re-election early next year, with a crowded field of opponents.

"This has been the job of a lifetime, but it is not a job for a lifetime," Mr. Emanuel, 58 years old, said in a statement Tuesday.
And various details that he supposedly accomplished in his time as mayor.
Here is the official text of the announcement. The opening:
On my first day as Mayor of this great city, I promised to make tough choices and face the hard truths we had not confronted, even when it hurts. Every day for the past seven and a half years, that is what I have tried my best to do – to improve our schools, make our community colleges relevant, put our fiscal house on stable footing, confront violence and rebuild trust between police and community, modernize our transportation systems, invest in our neighborhood parks and libraries and grow our economy into an engine of jobs and opportunity for all. I'm not shy, and together we've never shied away from a challenge.
Let's take a look at some of the general claims.
HOW HAS RAHM DONE?
Somebody else goes down the list:
1/ When first elected in 2011, Rahm Emanuel promised 3 things:

a) safer streets
b) stable finances
c) stronger schools

So let's start the conversation on how he's actually done on these issues.

— Dan Mihalopoulos (@dmihalopoulos) September 4, 2018
2/ Chicago was and remains one of the most dangerous cities in the country. 2016 saw the highest number of homicides here since the mid-1990s https://t.co/aUD0hbusiY

— Dan Mihalopoulos (@dmihalopoulos) September 4, 2018
4/ But the bigger legacy may be in the realm of police brutality. And a crucial chapter of that story is only now about to be written, with the Jason Van Dyke trial set to begin tomorrow #LaquanMcDonald https://t.co/sItecHA9DL

— Dan Mihalopoulos (@dmihalopoulos) September 4, 2018
(the main reason Rahm is bowing out, I bet… this is not something he wants to deal with.)
5/ As for finances, it's been harder and harder to rule Chicago like a boss without the money to keep friends happy and buy the silence of enemies. But how much did Emanuel do to improve upon the crap sandwich he inherited from Daley?

— Dan Mihalopoulos (@dmihalopoulos) September 4, 2018
Ah, it's all Daley's fault. As opposed to the electorate that kept voting for Daleys.
6/ Budget gaps have shrunk under Emanuel. But huge problems, particularly with pensions, continue to threaten the city's financial future. To be fair, Rahm got reamed for what he was able to cut – and for the revenues generated thru taxes, fees https://t.co/DRV4JWH2b1

— Dan Mihalopoulos (@dmihalopoulos) September 4, 2018
While I wouldn't call Rahm as bad as any Daley, I have been underwhelmed at his supposed problem-solving re: Chicago. That said, I'm not sure many people could do much better than the phony finance crap he's been pulling.
I really doubt there will be any credible candidate for mayor who will be able to argue that Chicago needs to face facts that it is bankrupt, and then go onto getting elected. Too many political players out there still think there's goodies to be had, which leads me to my next subject.
ONE GROUP TAKES CREDIT
There's various theorizing (and I'll have my own below), but The Chicago Teachers Union is trying to claim it was they who drove Rahm to this decision:
The Chicago Teachers Union took its share of credit for Mayor Rahm Emanuel's decision not to seek a third term Tuesday.

Former CTU President Karen Lewis has been a longtime critic of the mayor's education policies, and even came very close to running against him in 2015, until she was diagnosed with a brain tumor.

CTU Vice President Jesse Sharkey said it was Lewis' "courage" that "led the way for a political revolt" and "ultimately led to Rahm's political undoing."
I am doubtful. He has worse crap to deal with than the teachers union.
Disagreement over these policies led the CTU to strike in 2012 for seven days, fighting for better pay and benefits along with better protections for teachers who lost their jobs from school closures. They also asked for a reduction in high-stakes testing for students, and emphasized the necessity of art, music and gym programs — and air-conditioned classrooms. The strike culminated in a double-digit-percentage-point salary increase for all teachers.

Another dispute arose in 2016, when CPS teachers had to work over a year without a new contract. A strike was narrowly avoided when a tentative agreement between the district and the union was struck minutes before a late-night deadline.

The mayor's decision to step down was only mildly surprising to Sharkey, who said resentment of Rahm has been long-growing in the city.
Yes, and not just because of the schools.
All sorts of things annoyed people, and a lot revolved around money. And it still may, depending on if he has one last stink bomb to bestow on the city.
ONE BIT OF THE LEGACY YET TO GO
So. That pension obligation bond idea.
Have to say I'm not sure what to make of Rahm's announcement he won't run for re-election. Did the protests get to him? Does he just want to retire or have greater ambitions? And will he drop the Pension Bonds if there's no political gain for him? https://t.co/YJkb3r7ivj.

— Jane the Actuary (@JanetheActuary) September 4, 2018
Some theorizing:
Do you think it's odd timing to have floated the POB and then shortly thereafter announced he's not running?

— Amanda Kass (@Amanda_Kass) September 4, 2018
they've been working on that for months, long before it seems that the mayor made his decision…..the oddness of the timing from muni angle is theme of muni market is it likes certainty and now you are going to ask them to buy $10B with uncertain future leadership….. https://t.co/X68NOSNh1t

— yvette shields (@Yvette_BB) September 4, 2018
So I just did a little bit of noodling (aka went to Wikipedia) and found this:
Rahm Emanuel's Career in finance
After serving as an advisor to Bill Clinton, in 1998 Emanuel resigned from his position in the Clinton administration and joined the investment banking firm Wasserstein Perella, where he worked for 2 1/2 years. Although he did not have an MBA degree or prior banking experience, he became a managing director at the firm's Chicago office in 1999, and according to Congressional disclosures, made $16.2 million in his ​2 1/2 years as a banker. At Wasserstein Perella, he worked on eight deals, including the acquisition by Commonwealth Edison of Peco Energy and the purchase by GTCR Golder Rauner of the SecurityLink home security unit from SBC Communications.

Freddie Mac

Emanuel was named to the Board of Directors of Freddie Mac by President Clinton in 2000. He earned at least $320,000 during his time there, including later stock sales. During Emanuel's time on the board, Freddie Mac was plagued with scandals involving campaign contributions and accounting irregularities. The Bush Administration rejected a request under the Freedom of Information Act to review Freddie Mac board minutes and correspondence during Emanuel's time as a director. The Office of Federal Housing Enterprise Oversight later accused the board of having "failed in its duty to follow up on matters brought to its attention". Emanuel resigned from the board in 2001 before his first bid for Congress.
Uh huh. Yeah, Rahm is going to find a soft landing.
That doesn't mean the POB idea is in a good condition.
Bond Buyer: Mayor's exit from race puts Chicago's fiscal future in flux
Chicago Mayor Rahm Emanuel's decision Tuesday not to seek a third term stunned the municipal market, raising uncertainty over the city's future fiscal stewardship.

….
The decision stands to shake up future city fiscal, tax, and bonding policies as well as efforts to increase funding for city pensions. It comes with broad bond market implications because the mayor controls the leadership of other borrowing entities. They are the Chicago Public Schools, the Chicago Park District, the Chicago Housing Authority, and the Chicago Transit Authority.

The announcement also raises more immediate questions over whether the Emanuel administration will move forward with a $10 billion pension obligation bond issue that could prove a harder sell with the buyside now that uncertainty looms over the city's future leadership. The city's finance department could not immediately be reached to comment. A decision had been expected as soon as this week.

The city's decision, market participants say, will hinge on rating agency analysis because the city wants to preserve its general obligation rating and higher-grade securitization credits under a structure that would likely tap the securitization.

Market participants were caught off guard. Many investors who had attended the Aug. 2 annual city investors' conference expected Emanuel to run, with local market participants expecting a tough contest in which Emanuel would be forced into a runoff. Still, their money was on Emanuel whose campaign would be helped by a $10 million war chest and the lack of a high-profile rival.
….
Emanuel received credit at the city's August conference, even from buyside representatives who typically are negative on the city's fiscal condition, for fiscal gains on the budget, reserves, and enactment of dedicated revenue streams to begin tackling the $28 billion net pension liability tab.

The structural deficit is down to $98 million from $635 million when he took office and reserves are up to $155 million from $34 million in 2013.

Pensions remain Chicago's most daunting challenge. The city will contribute $1.18 billion next year, rising to $1.67 billion in 2021 as actuarial funding requirements hit for two funds and then $2.1 billion in 2023 when the two other funds are required to receive actuarially based city contributions. The city has raised property taxes, enacted a water utility charge, and 9-1-1 fee to fund higher payments, but has not said how it will tackle the upcoming funding spikes.

Chicago's finance team has said a $10 billion pension borrowing could raise the funded ratio to more than 50% from 26.5% and ease the looming payment spikes but would not erase the looming need for additional tax revenue.
I think it would be very sweet if the POB deal can't be done because all the mayoral candidates are obvious profligates on the finance situation. I think the POB is an awful idea, and I hope it doesn't go through.
Dennis Byrne at Chicago Now: Is Emanuel's decision not to run and his issuing $10 billion in city bonds related?
What does Rahm (Lame Duck) Emanuel plan to do after leaving the mayor's office next year? Here's a thought:

He's planning to issue $10 billion in bonds to help pay down the city's huge pension debt. Imagine the commissions that the bonds will generate. Now ask where Emanuel plans to work after he leaves office. Will it have anything to do where the city lags its bond business?

Is leaving his office to "pursue other interests" and the decision to float all those bonds just a coincidence? We'll have to wait to find out. But seeing as how this is Chicago, it is proper to raise the question.
mmmHmmm.
Other commentary on the POB idea, including my last post on the Chicago POB idea.
I will leave it here for now. We'll see where this stuff goes.
WHERE IS HE WHEN THE MUSIC ENDS
Oh wait, there's a little bit of money left for Rahm to play with — in his campaign coffers:
Pot at the end of Rahm's rainbow filled with cash
Rahm Emanuel has been collecting cash as if he was running for re-election and now the mayor's millions fill a campaign treasure chest that is his to use as he sees fit. He can't use it on vacations, fancy cars or fine jewelry but there are no rules or regulations about what he can do with the money in the political world or doled out to charity.

According to state election records, his campaign committee has more than $8 million…

…..
The I-Team on Tuesday found that Emanuel's campaign committee fund had $8.17 million as of June-cash on hand. According to state officials, he can just sit on it.

"If he decides to deactivate his committee he has the option of either giving the proceeds to charity, returning the donations to donors, or he could give it to other committees" said Dietrich.
…..
Ex-Illinois governor Jim Edgar hasn't held office in nearly 20 years, but his political committee still holds $300,000 in donations. The Edgar committee no longer takes in donations, but does continue to make contributions to candidates and educational institutions according to state officials. The Edgar committee also issues quarterly expense reports.
Interesting. Nice little pay off for connected folks. He can keep buying influence, at the very least. $5 million may be a drop in the bucket on a national scale, but it ain't nothing and local candidates may need only a little boost.
THE PARTY ENDS
I wrote this several times when Rahm first ran in 2011 — Daley left because the party was ending. Rahm did get to play with money a bit, but definitely did not have as much fun as Daley.
And the one after that?
10/ The overarching issue for Rahm's legacy may be the continued middle class flight. It surely began long before 2011. Many rich are drawn here still. But who is no longer here to help choose his successor may say as much as who does vote in '19 https://t.co/86Rpz5IAm7

— Dan Mihalopoulos (@dmihalopoulos) September 4, 2018
This happened to Detroit, by the way. It lost a large portion of its tax-paying population before it finally declared bankruptcy. In going over the Detroit bankruptcy, I noted:
I had an example of the deterioration of a neighborhood in an old post. There were loads of people who simply up and moved away from Detroit, especially once the credit bubble burst.
Now, I know there are luxury apartments in Chicago on a scale different from Detroit, but you can check out some info from an old post:
That was back in 2015, when I wrote:
Chicago has been shrinking in population for some time. I checked the most recent estimates, and saw an estimate the Chicago population was (barely) growing again…. but to a level still below the population in 2000, forget about their peak year of 3.6 million. The current estimate sets Chicago at about a million fewer people than their peak.

That's a huge drop, in both an absolute and relative sense.
I have the July 2017 estimate for Chicago population of 2.7 million, 0.8% higher than its population in 2010, and not too shabby compared to the U.S. population growth as a whole. But the question becomes whether the tax base has grown proportional to Chicago's fiscal needs.
Probably not.
Definitely not, when considering pension promises.
So, enjoy, whichever sucker "wins" the mayor's race next year.
OTHER COVERAGE
I will so miss kicking around Rahm (pfft). Here are some past picks on me making fun of him (in no particular order):
Finally, my favorite Eric Allie cartoon featuring Rahm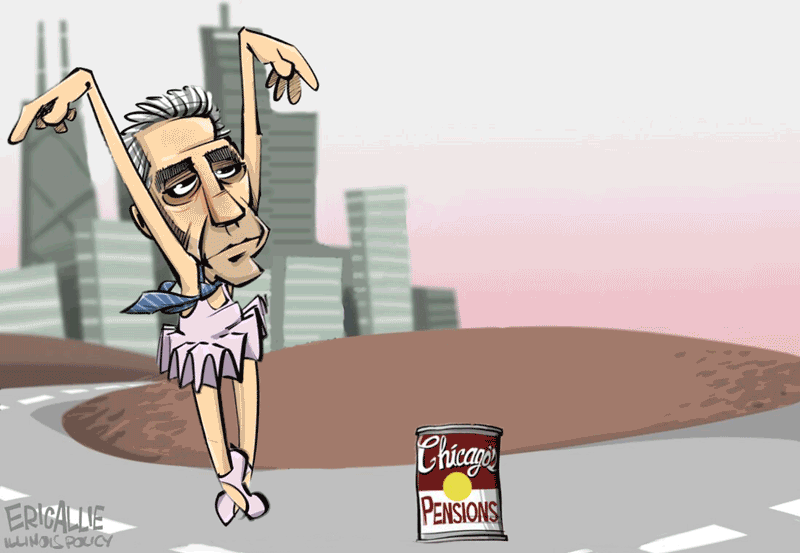 To be sure, Allie has something to see Rahm out the door: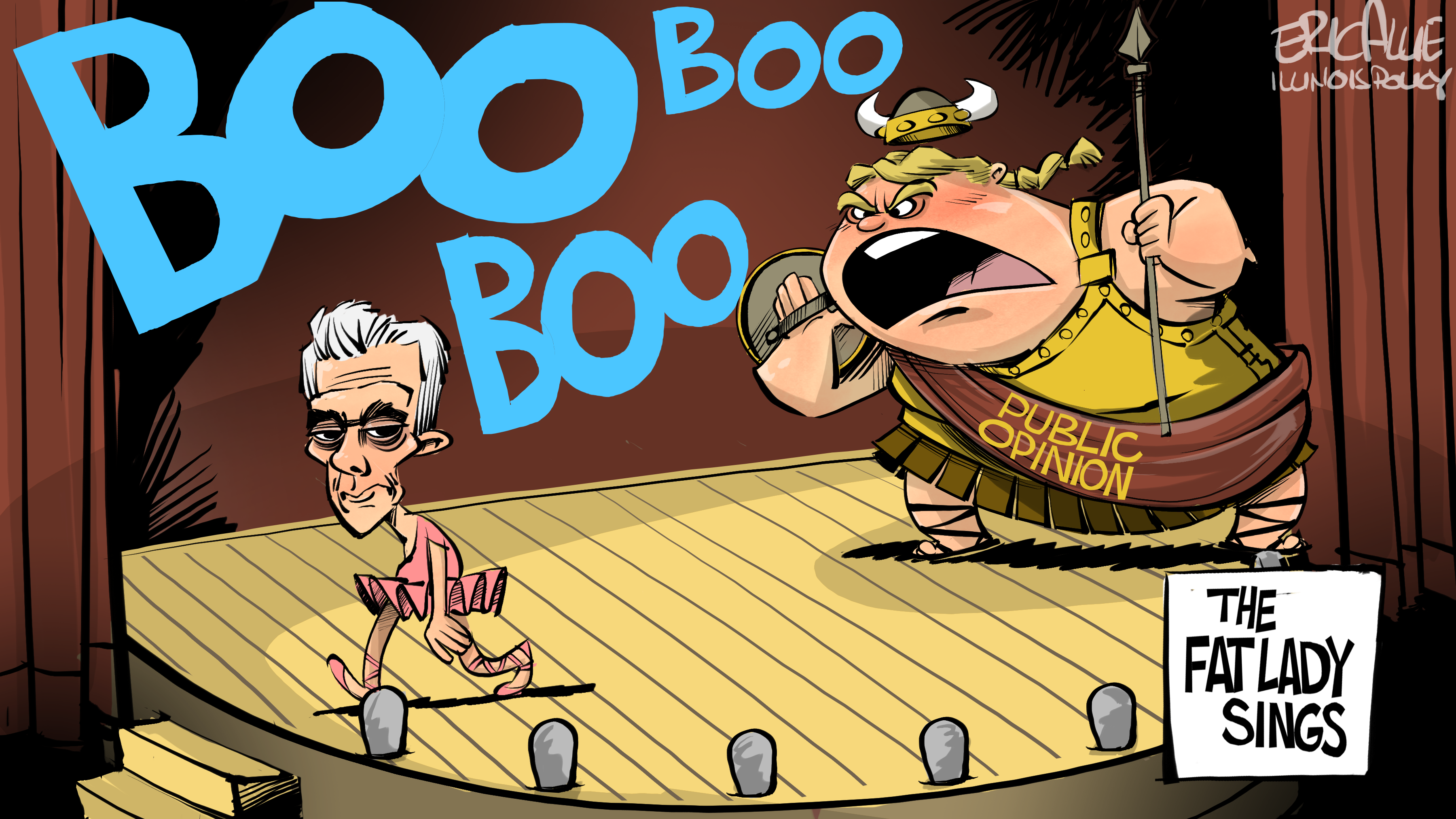 To be sure, I have several more months to beat up Rahm, but whatever. You won't be missed, Rahm. Enjoy your lucrative private career to come, and please, just go away.
Related Posts
Cook County Soda Tax: Look Who's Come to Save the Day!
Meep Picks Apart: Teresa Ghilarducci on Working Longer
Never Forget: 100 Years Since the Russian Communist Revolution