by meep
Fot those who don't get the title:
But first, a toast to my linkers:
You may be interested to know that I have FORTY posts in draft (some of which have been in draft for three years, so they can wait).
I'm supposed to be on vacation next week.
We'll see what happens.
WHEN EVERYTHING IS NON-DISCRETIONARY, WHY DO WE NEED POLITICIANS?
The state comptroller is sounding the doom clock.
Again.
But, she kind of has a point.
Comptroller Warns Illinois Finances in 'Massive Crisis Mode'
During the two-and-a-half years Illinois has gone without a state budget, the previously little-known office of comptroller has had the unenviable job of essentially sitting at the kitchen table trying to figure out how to pay the bills.

Like any household, there are some items that must be paid first. A mix of state law, court orders and pressure from credit rating agencies requires Illinois to make its debt and pension payments, for example, and issue state worker paychecks and some money for schools.

Now Comptroller Susana Mendoza is warning that new court orders in lawsuits filed by state suppliers that are owed money mean her office is required to pay out more than Illinois receives in revenue each month. That means there would be no money left for so-called "discretionary" spending — a category that in Illinois includes school buses, domestic violence shelters and some ambulance services.

"I don't know what part of 'We are in massive crisis mode' the General Assembly and the governor don't understand. This is not a false alarm," said Mendoza, a Chicago Democrat. "The magic tricks run out after a while, and that's where we're at."

…..
In the absence of a budget, funding has been reduced or eliminated in areas such as social services and higher education. Many vendors have gone months without being paid. And increasingly, they're filing lawsuits to try to get paid.

The courts already have ruled in favor of state workers who want paychecks, as well as lottery winners whose payouts were put on hold. Transit agencies have sued, as has a coalition of social service agencies, including one that's run by Rauner's wife.

Health care plans that administer the state's Medicaid program also asked a federal judge to order Mendoza's office to immediately pay $2 billion in unpaid bills. They argued that access to health care for the poor and other vulnerable groups was impaired or "at grave risk" because the state wasn't paying providers, causing them to leave the program.

Judge Joan Lefkow ruled June 7 that Illinois isn't complying with a previous agreement to pay the bills and gave attorneys for the providers and the state until Tuesday to work out a level of payment.

Mendoza says whatever that amount will be, it will likely put Illinois at the point where 100 percent of revenues must be paid to one of the office's "core priorities," such as those required by court order. And if this lawsuit doesn't do it, the next court ruling against the state will.
Now, payment for services already rendered is pretty damn basic.
Question is: why are these people keeping rendering services when they're not getting paid?
One answer: the state is their only, or primary, source of funding:
The nonprofit landscape here is crowded with organizations, many similarly named, with similar missions. The increasing number of nonprofits competing for finite resources and attention stresses all involved. In a 2015 study by the Nonprofit Finance Fund, 73 percent of Illinois nonprofits reported an increased demand for their services, but only 53 percent said they had the ​ funding to meet that demand. Since then, the state's budget crisis has only worsened, and that has left dozens of organizations unpaid for their services.

…..
The stress on the sector—in addition to that caused by the state budget crisis—is beginning to show. In early June, United Way of Metropolitan Chicago shed 22 staff members, citing a reorganization as it posted a $1.9 million operating deficit for fiscal 2016. This spring, Lutheran Child & Family Services of Illinois laid off 100 people and cut nine programs, attributing the retrenchment to lack of state funding, budget cuts as well as a desire to reorganize and refocus.
MAYBE it's not a good idea for a charity to depend on state funding. It kind of undercuts what a charity is, ya know. Just a thought.
But theeeeen, there's all those people working for the state, getting their salaries, thinking they're fully paid.
And I look at their 40% (or whatever) funded pensions, and I notice these people have been underpaid for the promises given for decades.
Many have been lucky and have outlived the money running out. So they got their promises.
But many more will find out they were being stiffed all that time.
COMMENTARY
Lots of pieces going by. I've not been feeling well, and there are a lot of them, so I'm just going to do links & short excerpts – concentrating on the punchlines.
What do Illinois and Hawaii have in common that's causing residents to flee?
Whether in the form of high taxes, high cost of living, rising housing prices, lack of job opportunities, rising unemployment or burdensome regulations — or all of the above — cost is always at the heart of the explanation [of residents moving to other states].
ILLINOIS: THE PUERTO RICO OF THE PLAINS (STATE FINANCES IN "CRISIS MODE" AS POWERBALL AND MEGAMILLIONS PULL OUT)
Ah, Illinois. Once known as "The Land of Lincoln," it is now known as "The Puerto Rico of the Plains."

Illinois has the distinction of having the lowest municipal bond rating of any state. Only Puerto Rico, which is NOT a state, has a lower municipal bond rating (S&P rates them as 'D' since Puerto Rico has defaulted on the debt). S&P has downgraded Illinois to BBB-.
List: Costs and consequences of Illinois' budget crisis
Illinois owes $370 million in interest alone for state employee health care.

Nearly 70 percent of social service agencies have received no payments or partial payments from the state in FY 2017, according to a March 2017 United Way survey.
….
Police training classes for more than 57,000 officers across the state have been canceled.
….
In the last two years, Illinois has been downgraded by all three major credit rating agencies a total of eight times. Moody's Investors Service and S&P Global Ratings lowered the state's bond rating to one notch above "junk" status on June 1. All three rating agencies have a negative outlook for Illinois, which already had the nation's worst credit rating, and has warned the state could face further downgrades in the coming months amid the ongoing budget impasse and mounting unpaid bill backlog.
Why You Shouldn't Believe The Illinois Budget Deficit Numbers Released This Week – Wirepoints Original
"Illinois end of year budget deficit to top $6 billion." That and similar headlines were very common across Illinois over the past week.

Uh-uh. The real deficit Illinois faces is clearly well over twice that and might easily be over three times that.
Illinois Bond Spreads Explode As Market Pukes On Latest Batch Of Bad News
S&P analyst Gabriel Petek explicitly warned that "the unrelenting political brinkmanship now poses a threat to the timely payment of the state's core priority payments" and warned about Illinois' inability to pass a budget for the past two years amid a clash between the Democrat-run legislature and Republican Governor Bruce Rauner. As we have documented previously, the ongoing confrontation has left the fifth most-populous US state with a record $14.5 billion of unpaid bills, ravaged entities like universities and social service providers that rely on state aid and undermined Illinois's standing in the bond market, where investors have demanded higher premiums for the risk of owning its debt.
Oh, by the way, as I write this, it's $15.1 billion of unpaid bills.
ILLINOIS' PENSION DEBT GREW BY $25B DURING 2011 INCOME TAX HIKE
Despite $30 billion in extra tax revenue, the politicians who passed Illinois' 2011 income tax hike failed to solve Illinois' pension crisis or pay off the state's bill backlog.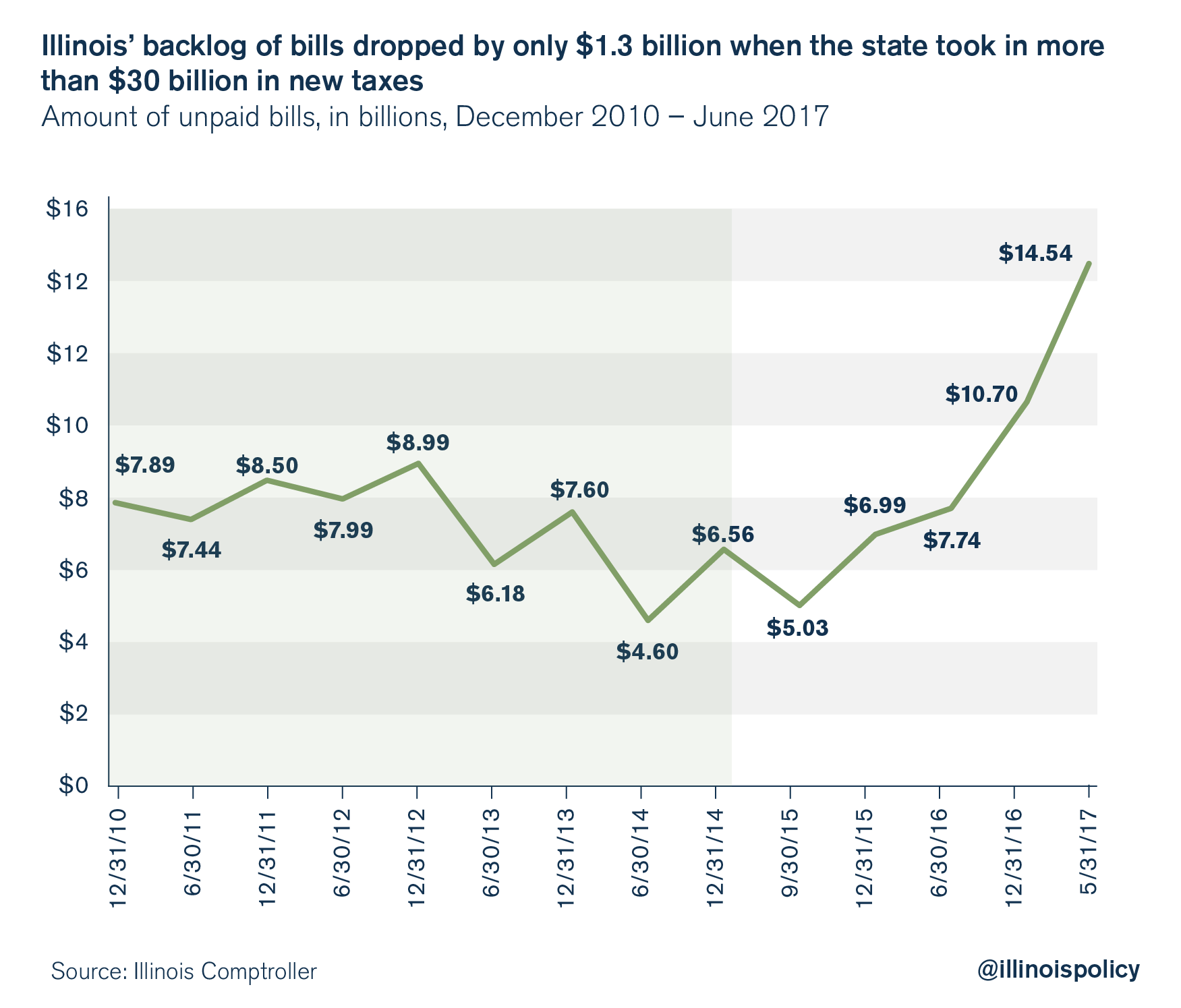 WHAT'S REALLY WRONG WITH EDUCATION FINANCE IN ILLINOIS: PENSIONS AND ADMINISTRATIVE COMPENSATION

The problem with education finance in Illinois isn't the state's funding formula and how it distributes education funds. In general, the formula works as intended, with poorer districts receiving the vast majority of the state's support.

Nor is the problem an overall lack of funds. The amount Illinois spends on education has grown steadily over the past few decades, with Illinois now spending the most per student in the Midwest.

However, increasing the amount spent on education has not guaranteed that more money has been spent on teaching children.

That's because state education spending is made up of much more than what is spent daily to run Illinois schools. Billions of dollars are spent annually on teacher pensions and district administrators' compensation, siphoning funds from Illinois' classrooms.
Michael Hicks: Illinois a joking matter no longer
A Chicago bankruptcy is likely unavoidable, as even the Obama Administration and Democratic Congress made clear that no bailout was in the cards. The bigger problem is that a state cannot really go bankrupt, and will have to deal with the problem through the same dysfunctional politics. One result is that no one will now prudently lend money to Illinois. The state's bond rating is near junk-bond status, which means precious little infrastructure improvement and no stability over an inevitable recession. Even if wise, effective leaders were to punch through the uncaring party machines, Illinois faces decades of troubles due to its unfunded debt.
Well, they can't go bankrupt in terms of the legal process.
What they can do, and are on the brink of, is defaulting on some obligations people take more seriously than unpaid dental bills.
How Illinois became America's failed state
The Land of Lincoln is drowning in red ink. And it's about to have its most expensive election ever.

Illinois has compiled $14.6 billion in unpaid bills. It's running a deficit of $6 billion, and its pension liability has soared to $130 billion.

That's not the worst of it. The state's nearly two-year failure to pass a budget has sent its bond ratings careening toward junk level, downgraded a staggering eight notches below most other states.
….
Democrats have flooded the primary to challenge GOP Gov. Bruce Rauner, with billionaire J.B. Pritzker among them. Pritzker has already poured $14 million into his campaign for a general election that's still 15 months away.

"Illinois is operating in a way 49 other states would never try to operate," said Laurence Msall, president of the Civic Federation, a nonpartisan fiscal watchdog group. "There is permanent damage that is being done that will take decades to repair."
It took decades to get there, so this seems only fair.
What I don't get is why rich Democrats are rushing into this dumpster fire. It's like Rahm Emanuel not taking a hint from Daley hightailing it.
But hey, Madigan is still around, so there still must be money to be made, right?
WHAT'S A JUNK BOND AND WHY ILLINOIS WILL BE AMERICA'S FIRST "JUNK" STATE
Illinois' bonds are currently priced like they are junk-rated.

…..
Illinois' political gridlock is a natural consequence of Illinois' bad debt math. There has not been a political agreement because there are no easy decisions left – there is only a choice between tax hikes and painful medicine.

Illinoisans need a leader to present a clear vision for the future, because they do not support more tax increases that will further rot the state.

Illinoisans need to demand the painful but necessary medicine that will cut the debt and remove the rot from the system.

There are no easy decisions left, but the choice should be clear. The state needs competent management and a program of tough medicine and debt reduction.
Here's the biggest problem: they can't hike taxes high enough to cover all the promises already made (aka the already unfunded pensions, not counting the funding for future benefits accrued).
There's no choice "between". There's: hiking taxes, reducing services, AND cutting pensions to the already retired. You can get all of these at the same time. That's the trajectory Illinois is currently on.
LAWSUITS OVER PAYMENTS
That was the commentary, here are the various news stories I have yet to link (and excerpt).
12 June: Illinois Budget Fight Goes Back To Court(s)
Two court hearings this week could shape the future of Illinois' budget impasse.

The cases involve two groups: one who has been getting paid; and another who hasn't, but wants to.

Up Tuesday are state employees. Normally their pay must be appropriated by the legislature — but when that didn't happen in 2015, the AFSCME union convinced a judge to just order the payments.

Earlier this year, after more than 18 months of that, Attorney General Lisa Madigan sought to stop those payments. AFSCME and lawyers from the administration of Gov. Bruce Rauner teamed up to fight her, and convinced St. Clair County Judge Robert LeChien to continue the payments.

Madigan is appealing that decision, and on Tuesday the Fifth District Appellate Court, in Mount Vernon, will hear arguments in the case.
Appellate court hears case about paying state employees without budget
:
An attorney for the state's largest public employee union argued in front of appellate court judges Tuesday that if state employees show up for work, they should be paid. Attorney General Lisa Madigan's office said if there's no state budget, there shouldn't be paychecks.

When the Illinois state budget impasse began in the summer of 2015, Madigan filed suit to halt state employee pay because there wasn't an appropriation to do so. Both Gov. Bruce Rauner and the AFSCME union then got a temporary restraining order blocking Madigan's move. The Attorney General's Office waited until January of this year to file an appeal.

During oral arguments of the case Tuesday in front of a three-judge panel of the Fifth Circuit Court of Appeals, Madigan's Deputy Solicitor General Brett Legner explained why the Attorney General's office waited so long to appeal the temporary restraining order. Legner said they weren't sitting on their hands. He said they saw a stopgap budget that paid for some government operations as a sign the impasse was breaking, but it became clear at the beginning of the this year that was not the case.

With the impasse continuing, Madigan tried to expedite the case to the Illinois Supreme Court, but the high court said it should go through the normal route.
One comment: I like the approach the courts are taking.
It's the business of the legislature to pass a budget. Not the court's. They've gone way over, and it's groovy to try to blame Rauner, but it's Madigan, who's been around a lot longer, who has his fingers in the pies.
Oh, and the Madigan I was referring to is Michael Madigan, the speaker of the Illinois House of Reps. I will leave it to the people in Illinois to detail his particular failings, as well as how he has profited from being a state legislator, and a lawyer who represents clients against government entities (isn't that sweet?)
The Madigan referred to in the story is his daughter, Lisa Madigan, the Illinois Attorney General.
It's so sweet when the kids follow in the family business.
Appellate court rules against social service providers
The panel rejected the coalition's assertions that Rauner has acted beyond his gubernatorial authority by entering into contracts which weren't funded, and then vetoing the appropriations bills that would have funded them.

"The governor was not obligated to approve any or all portions of appropriations bills by the General Assembly," Justice Eileen O'Neill Burke wrote in the 35-page opinion on behalf of the three-judge panel. "Indeed, both the governor and the General Assembly are constitutionally constrained to propose or pass budgets and appropriations that do not exceed estimated available funds."
Again, it's not for the courts to do this stuff.
The legislature needs to act. They've been dragging their asses, and coming up with ridiculous tax plans.
RATINGS AND SWAPS
Illinois Reduces Risk of Bank Swap Fees If Rating Is Cut to Junk
Illinois's bankers agreed to soften the blow if the state's bond rating is downgraded to junk.

Barclays Bank Plc, JPMorgan Chase & Co. and Bank of America Corp. revised interest-rate derivative contracts so Illinois won't face some $38 million in fees as long as it's not dropped any further than one step below investment grade, Eleni Demertzis, a spokeswoman for Governor Bruce Rauner, said in an emailed response to questions from Bloomberg News. That threshold had been one step higher, which would have allowed the banks to cancel the trades and demand payment for the full market value.
That protection is needed because — S&P warns of junk status with no budget by July 1:
Adding more weight to the coming weeks, S&P Global Ratings on Wednesday warned that the state's debt will be rated junk if there's no budget agreement in place by July 1 — the beginning of the new fiscal year.

As lawmakers left Springfield with no budget in place, S&P on June 1 downgraded Illinois' bond rating to one step above junk. Moody's Investors Service followed S&P's downgrade.

Now, analysts say no budget means a downgrade to junk status come July 1. And the blame is all on a political war that analysts say puts the state at great risk.

"In this case, given the very pronounced and protracted impasse that's gone on for almost two full fiscal years, we think that it's above one in two likelihood that we would lower the rating at around the time of the new fiscal year if the lawmakers were unable to pass a budget to begin the new fiscal year," analyst Gabriel Petek said during a conference call on Wednesday.
ROAD WORK TO HALT
I was snide about the lottery withdrawal to get the attention of the hoi polloi.
They really might notice lack of roadwork. In the short term, they could be happy (yay! no delays!), but they'll be regretting it come winter.
Roadwork Could Shut Down Across Illinois Due To Budget Impasse
Roadwork across Illinois may grind to a halt at the end of June due to the continued state budget impasse, a representative for the Illinois Department of Transportation (IDOT) announced Wednesday. IDOT will be unable to pay contractors on July 1, unless the state passes a stopgap funding measure.

IDOT has told contractors that "all construction work is to shut down on June 30," according to a statement. "Contractors will be advised to secure work zones to ensure their safety during any potential shutdown."
Unable to Pay Bills, Illinois Sends "Dear Contractor" Letter Telling Firms to Halt Road Work on July 1
I do not have a link, but here is the letter in image form.

This does not raise much alarm in Illinois as these kinds of letters went out last year as well. It's simply business as usual in Illinois.

My IDOT contact, who wishes to be left unnamed, reports …

Quote:
Hello Mish

Last year when they did this the extra work bill to the state cost millions of taxpayer dollars. At the last minute, the shutdown was averted but not until the shutdown measures were employed and thus extra cost was due to contractors and consultants.

Look out for the Road Builders Association to come out with an estimate of what it will cost this time around after the letter today.

Last year, the supplier for paper and toilet paper had not been paid and thus various offices were reportedly cut off of supply. IDOT employees were going to have to work from home due to the potential unsanitary conditions.
Ew.
BANKRUPTCY ON THE HORIZON?
Is Congress paving way for Illinois to file Bankruptcy?
According to unnamed sources, we have been told that the US Congress is workings towards passage of a bill that would allow Illinois and others to file bankruptcy. Such a bill may not be all that different than that found in the Purto Rico bankruptcy that recently took place. A claimed reason for the bankruptcy push, according to persons unwilling to go on the record, is because the State of Illinois is having a hard time selling bonds.

A quick review of the Illinois website on bonds reflects the last issuance of General Obligations bonds was in October of 2016 for $1,303,145.00. With a General Assembly that can't pass a budget, bond ratings next to junk, back due bills of $15,106,335,665.00, and pension obligations of $203 Billion according to Illinois Policy and $250 Billion according to Jeffrey Brown, a financial economist at the University of Illinois, it becomes clear the state is facing financial calamity.

Compound that financial typhoon with the fact the Illinois investment portfolio is of only $13,864,344,339.79, it's no wonder Congress may be prepping Bankruptcy rules to bail out Illinois and other states.

Our source has cited at least fives states making the push for such legislation. Illinois, California, New Jersey, New York, and Michigan.

Although we believe bankrupcty will lead to even greater financial concerns for those that are effected, all the indicators are, Bankrupcty is coming to Illinois.
While there's all those important Russian investigations to get on? Are you kidding me?
More to the point, "unnamed sources" have been a total bust this year. We find out that most of them are unnamed because they're full of shit.
I have "unnamed sources", but that's because they're the people who sent me the above links. The point of my unnamed sources is to point me in productive directions, to public info, and I share that in my posts. Some of the items could be incorrect, but there's a chain where you can see it went wrong.
In any case, it took a long time for Puerto Rico to get its "bankruptcy lite" bill, which may not be doing too well for a variety of reasons.
Illinois is Collapsing: It's Coming Everywhere
Maybe you can blame Madigan. He's been there long enough. But Rauner? C'mon folks.

It was obvious that Illinois was going to fail as a state before I left in 2000. That was 17 years ago by my count.

Why?

Impossible promises made to public unions, for one. And that's not a small one either. Suburban school districts that were driving property taxes through the roof (they're doubled since I left, incidentally, by my count) and then the general pension promises on top of that.

For those who continue to say "but it's a contractual obligation" or even "it's protected by the State Constitution" I reply thus: A contract to do an impossible thing is not a contract at all.

You cannot enforce a "contract" you make with me where I am to jump over the Empire State Building unassisted. Why? Because the act contemplated is impossible.

Similarly, a promise to pay an exponentially increasing amount where the exponent is larger than the tax base growth rate is also impossible. That's math, and it makes any such promise void.
I'd buy this guy a drink, but if I bought every person who stated the obvious a drink I'd be as bankrupt as Illinois.
I'm not doing the math right now, because it's Father's Day and I'm about to join Stu on the porch for drinks and conversation. But it's obviously untenable, because Illinois has already tried all the tricks, and they're all failing now.
HOW DOES IT END?
Thanks for asking.
I started this post with a cartoon. Thing is, that was just the first 2 panels of a 6 panel cartoon.
Then we could always go with Robert Frost:
Some say the world will end in fire,
Some say in ice.
From what I've tasted of desire
I hold with those who favor fire.
But if it had to perish twice,
I think I know enough of hate
To say that for destruction ice
Is also great
And would suffice.
And then there's this immortal bit from The Simpsons:
There are lots of people who are getting hurt by this and are going to get hurt by this. I'd love to see the pitchforks come out for the people who created the mess, but many of them are dead. And it still wouldn't fix the problem.
I'm not much on predictions….
[from the peanut gallery: yeah, she isn't much on predictions]
Hey, I go for the easy stuff.
Related Posts
Taxing Thursday: It's Up to You, New York, New York
Taxing Tuesday: Mmmmmm, Donuts... I Mean, Hmmmm, Biden and Sanders Tax Plans
Taxing Tuesday: The SALT Cap Battle Continues