by meep
Let me get to the big local news first:
Aetna Says It May Move Out of Hartford, U.S.'s Insurance Capital
Aetna Inc., whose founding more than 150 years ago helped turn Hartford, Connecticut, into the insurance capital of the U.S., is thinking about leaving.

The health insurer is in negotiations with several states about relocating its headquarters, and will make a decision by early summer, T.J. Crawford, an Aetna spokesman, said in a statement Wednesday. Luke Bronin, Hartford's mayor, called the insurer's departure "a hard blow for the state and for the greater Hartford region."

Aetna said the goal of the relocation is "broadening our access to innovation and the talent that will fill knowledge economy-type positions."

"We remain committed to our Connecticut-based employees and the Hartford campus," Crawford said.

A departure by the company would be the latest loss for the state. General Electric Co. said last year that it would move its headquarters to Boston from Fairfield, Connecticut, after a three-year search and getting incentives that helped offset the cost of the change.
Aetna's Headquarters May Leave Connecticut:
Officials believe many employees will stay in the Hartford area

Officials in Connecticut believe executives at Aetna Inc. have already decided to move the company's headquarters out of Hartford, to a larger city.

The life and health insurer was founded in Hartford, Connecticut, in 1853, and it now has about 5,800 employees in the Hartford area.

Hartford Mayor Luke Bronin said today in a statement that he believes, based on conversations with Aetna's executives, that the executives decided to move the headquarters out of Hartford a long time ago.

…..
Aetna's Statement

Aetna put out a statement confirming that the company has been looking into moving its headquarters.

"We are in negotiations with several states regarding a headquarters relocation, with the goal of broadening our access to innovation and the talent that will fill knowledge economy-type positions," Aetna said in the statement, which was released today.

"We remain committed to our Connecticut-based employees and the Hartford campus, and hope to have a final resolution by early summer," the company said.

Connecticut v. Boston

Gov. Dannel Malloy of Connecticut said in prepared remarks of his own, which he delivered today at a press conference in Hartford, that he believes Aetna's executives are planning to move the company's headquarters because they want company executives to "operate in a larger, more vibrant urban center than Connecticut can currently offer."

Connecticut as a whole is in head-to-head competition with Boston and New York City, Malloy said.
….
Malloy said his main focus will be keeping Aetna workers in Hartford.

"Keeping those employees in Connecticut is far more important than where Aetna plans its corporate flag," Malloy said.
When this hit on Wednesday, it was the talk of my office.
Look, Hartford can't compete with Boston or New York City. Hartford is not a large city.
But it's got some nice stuff. I do like working there, and I'm going 70 miles one way to get there. But then, I'm a nut.
I can get into the discussions I had on Wednesday ("Moving to Manhattan is not going to make working in insurance hot. You know who's in Manhattan? Google and Amazon."), but the real involved details involve my own work history, and if you meet me in person and buy me a beer, I'll tell you about it.
CONNECTICUT NOT BRIBING AETNA TO STAY
Well, as far as I know.
I use an app called Timehop to have fun in re-sharing old tweets & facebook posts in a smartass way, and look what I came across: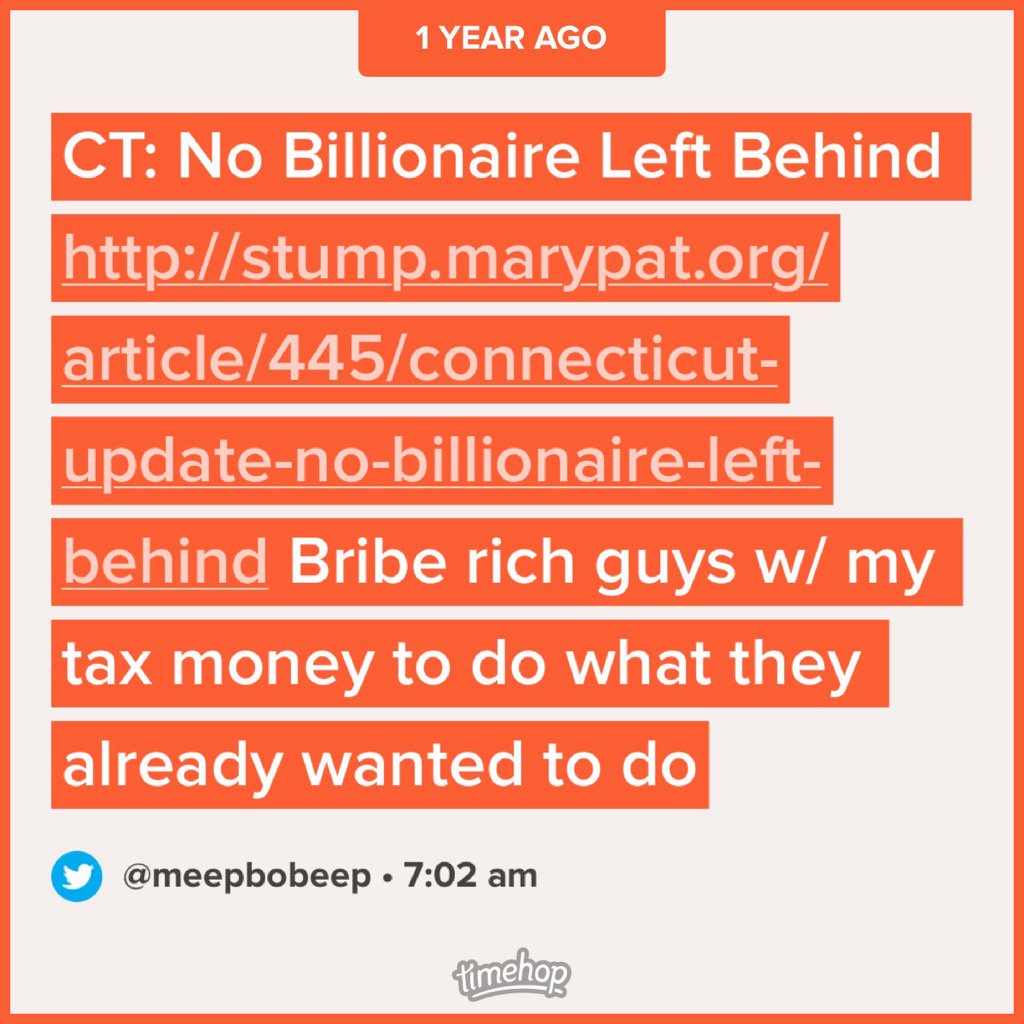 Ah, yes. The post on CT bribing a hedge fund to stay: Connecticut Update: No Billionaire Left Behind
This reminds me of the old saying — if you owe the bank $100K but have trouble paying it back, you have a problem. If you owe the bank $100 billion and have trouble paying…. the bank has a problem.

If the state has a lot of rich people/companies it can soak, and you're a rich person concerned about taxes, you have a problem; if the state finds this revenue source drying up, it has a problem:
Turns out Mr. Bribed Hedge Fund Guy didn't cough up as much for tax year 2016 as he did in the past.
So it seems that Connecticut has learned its lesson. It's run out some of its gun companies (looks like historic Colt firearms are still HQed in Hartford though), it's tried bribing big money guys to stay…. well, let's see what they think is intelligent.
MORE ON THEIR BRIGHT IDEA
I mentioned this in the prior CT finances post, but here is something from the WSJ today.
Connecticut's Tax Comeuppance:
With the rich tapped out, the state may resort to Puerto Rico bonds.

…..
Gov. Malloy has spent two terms treating business as a bottomless well of cash to redistribute to public unions. Now that his state is losing millionaires and businesses, he has seen the light. But the price of his dereliction will be steep.

Last month the state Office of Fiscal Analysis reduced its two-year revenue forecast by $1.46 billion. Since January the agency has downgraded income-tax revenue for 2017 and 2018 by $1.1 billion (6%). Sales- and corporate-tax revenue are projected to fall by $385 million (9%) and $67 million (7%), respectively, this year. Pension contributions, which have doubled since 2010, will increase by a third over the next two years. The result: a $5.1 billion deficit and three recent credit downgrades.

According to the fiscal analyst, income-tax collections declined this year for the first time since the recession due to lower earnings at the top. Many wealthy residents decamped for lower-tax states after Mr. Malloy and his Republican predecessor Jodi Rell raised the top individual rate on more than $500,000 of income to 6.99% from 5%. In the past five years 27,400 Connecticut residents, including Ms. Rell, have moved to no-income-tax Florida, and seven of the state's eight counties have lost population since 2010. Population flight has depressed economic growth — Connecticut's real GDP has shrunk by 0.1% since 2010 — as well as home values and sales-tax revenues.

Corporate revenues also took a hit after General Electric relocated to Boston. Mr. Malloy then offered tax breaks to hedge funds and companies to stay in Connecticut, which has further eroded revenue.
…..
The state treasurer has advocated "credit bonds" securitized by income-tax revenues to reduce the state's borrowing costs. Investors beware: Puerto Rico tried something similar with its sales tax, and bondholders might not get back a penny. Maybe Democrats should follow Jerry Seinfeld's advice to George Costanza and do the opposite of the instinct that has brought the state so low: Cut taxes.
Also: cut COSTS.
If I lose my adjunct position at UConn, I would be just fine with that.
But I don't think my classes on getting larval actuaries to communicate more effectively and to work with Excel/Access/VBA is value negative for the amount they pay me. [I love to teach…. but I also love my access to the UConn Library, which is my largest incentive to keep this job.]
But that last piece about securitizing income tax revenues — that's such an incredibly bad idea, and not just because of arguments like Mark Glennon's pointing to the dangers of assetless bankruptcies.
It was bad enough when the "one neat idea" was pension obligation bonds. But outsourcing tax cash flows is asking for a tax insurrection. Ask the Ancient Romans how that sort of thing went.
MORE BAD FINANCE
Ooooh, made me think of writing a parody song "Bad Finance" to Lady Gaga's "Bad Romance".
Ma ma ma Malloy…
Want your Bad Finance…

I want your taxes
I want your net worth
I want your everything
Don't want no dearth
I want your wealth
Wealth-wealth-wealth
I want your wealth
Hey, it's a work in progress.
Hartford latest U.S. city on the brink of bankruptcy
Hartford is the latest American city to be on the verge of bankruptcy.

Leaders in the Connecticut capital have been soliciting proposals from law firms that specialize in Chapter 9 bankruptcy in anticipation of being strapped for cash in the city's budget, according to the Hartford Courant.

The city is facing a deficit of $65 million in 2018, which is on top of a $14 million shortfall this year, the paper said. Hartford City Hall is now reportedly seeking $40 million in state aid to close the gap.

Mayor Luke Bronin has hinted for months that filing for Chapter 9 could be a possibility and said during his budget release in April that he was "not in a position to rule anything out," according to the Courant.

Some in the City Council apparently feel that inquiries with law firms on possible bankruptcy proceedings may not be the right approach.

…..
Bronin told The Courant that it's vital that the state helps them come back from the brink of bankruptcy.

"We've made clear for more than a year that Hartford's fiscal challenge cannot be responsibly solved at the local level alone with the tools that we have," Bronin told the newspaper, "and we continue to push hard to build a new partnership with the state of Connecticut to put our capital city on a path to solvency, stability and growth."

State House Majority Leader Matthew Ritter, D-Hartford, said that legislators are trying to support the city.

"Hartford going bankrupt would be the most catastrophic financial thing that ever happened in the state of Connecticut," he told The Courant.

"We will try everything in our power to hit the $40 million target," he added. "It keeps us up at night as much as it keeps you up at night and going bankrupt … would be terrible for the city. It would be terrible for the state. It's not something that any of us want to see and we're going to work very hard to make sure it doesn't happen."
I am not a Connecticutian (Connecticutter?), but there's several things the state could easily do to help Hartford's finances. For one, the state capital is Hartford… and I recently learned that state employees get free parking in Hartford.
People (like me) pay near $200/month to park in Downtown Hartford. That seems like an easy revenue raiser. To be sure, the state employees could then change their behavior — like taking the very green buses or carpooling. But then the environment would be saved! Win-win!
Connecticut, home to great wealth, may be sinking into a fiscal mire:
Home to Yale University with its $25-billion endowment, numerous high-flying hedge funds and top-drawer celebrities ensconced in opulent estates worth tens of millions of dollars, Connecticut possesses great wealth and boasts the highest per capita income of any American state.

But look a little closer and it's a fiscal train wreck. The Constitution State is among the worst states when it comes to business costs, economic climate, growth prospects and regulatory burdens. Ground zero for this train wreck is the capital, Hartford.

The administration of Gov. Dannel Malloy, a Democrat who has been in office since 2011, projects a budget deficit of more than $5 billion over the next two years, thanks to generous pension benefits and the burden of servicing its big debt, plus falling tax revenue due to the exodus of large employers and residents reaching retirement age.

….
The state's population is falling: Its net domestic out-migration was nearly 30,000 from 2015 to 2016. In 2016, it lost slightly more than 8,000 people, leaving its population at 3.6 million. Indeed, recent national moving company surveys underscore the trend, showing more people leaving Connecticut than moving in. In 2016, the state also saw a population decline for the third consecutive year, according to Census Bureau estimates.

One of the companies, United Van Lines, reported that of all their Connecticut customers, 60 percent were leaving compared to 40 percent who were moving there. Only three other states had higher rates of people moving out – New York, New Jersey and Illinois. One out of five of those leaving said they were retiring.

…..
The Services Employees International Union's Local 1199, which represents 7,000 state workers, has taken a very vocal stance against the governor's proposed cuts and employee layoffs. The union has denounced the governor's proposal for cuts as heartless, and says it will hurt those who already struggle and are the state's most vulnerable, including children and the disabled.

The SEIU recently aired a television ad taking aim at the governor and legislature, and pushing them to look to the state's high-income earners as a source for closing the budget gap.

"They're asking a lot of middle class workers," said Jennifer Schneider, an SEIU spokeswoman.

"You have a lot of wealthy people in the state. Democrats and Republicans have proposed concessions from state workers. It comes out to about $30,000 per person. That's salary combined with health insurance and other benefits. It's an astounding amount for just middle-class workers to be handling. Everyone should be part of the solution, not just the middle class."
Mmmm. Middle class state workers.
Well, let's check, shall we?
Here's a database of CT workers.
I did a little snapshot of the average salary:
Though I really would love to get the whole database, so I could exclude part-timers like me:
I'm not sure what those finge benefits supposedly are. I have a feeling it's money that goes to the union I don't have anything to do with.
Anyway, even without excluding part-timers like me, many of the departments in CT have average salaries reaching 6 figures. If you look at the overtime stats….
But yes, when there are a few people making millions per year, those schmoes of us who earn at least an order of magnitude less look relatively "middle class". But for most of the country, it looks pretty rich.
"State workers who are going to retire rack up a lot of overtime to rack up their pension," Fasano said. "I don't blame the state workers for using these benefits, but we have to change it."

Malloy has threatened to lay off thousands of public workers if he can't secure concessions from the unions.
Given what I know about Malloy — that means he's up against the wall. And, again, I understand why he doesn't want to run for governor again.
I don't disagree that Connecticut has great wealth. Unfortunately, a lot of that great wealth is in pensions promised to public employees, and which are far from fully-funded. So maybe those pension millionaires aren't as wealthy as they think.
Just like some of the hedge fund guys.
LET THEM EAT DEFAULTS
The Moral Case for Letting Connecticut Go Under by Lewis M. Andrews:
Amidst growing concern over the shaky financial conditions of California, Illinois, and New Jersey, my home state of Connecticut is often overlooked. Its size and population are relatively small, and its position between Manhattan and Boston make the state appear unimportant. Moreover, with some of the nation's wealthiest communities — Darien, New Canaan, and Greenwich — how bad could things really be?

Very bad, according to a 2016 study for the Mercatus Center at George Mason University. The study calculated the fiscal health of each state according to its short- and long-term debt, unfunded pensions, and other key fiscal obligations. Connecticut came in the sickest of all.
…..
About the only policy lawmakers do seem to agree on is that the Nutmeg State should not be allowed to go bankrupt. More accurately, they all agree that nothing should be done to frighten bondholders so much that a bankruptcy option, which is not addressed in current federal law, would have to be invented (as it was last year for Puerto Rico).

It's easy to see why politicians from both parties would want to avoid the kind of financial black eye that would make it harder to borrow money in the future. Yet, from a national perspective, if you had to let one state go as a warning to the other 49 to finally get their own financial houses in order, Connecticut would be the ideal choice.

…..
When one thinks of the two constituencies that would be most harmed by a state bankruptcy — its bondholders and its public employee unions — there is a certain justice to letting Connecticut be the chastened example for the rest of the country.

In theory, municipal bondholders play a crucial role in promoting the fiscal health of states and municipalities by adjusting the interest rates they demand for lending their money. But for decades, affluent investors across the U.S. have largely ignored mounting civil debt, underfunded pensions liabilities, and other telltale signs of local government distress on the assumption that Washington would, if necessary, bail them out.

Such magical thinking is perhaps understandable in Mississippi, Wyoming, or some other state with no major financial industry. But Connecticut is the third largest hedge fund capitol in the world after New York City and London. A good portion of its most affluent and influential citizens make their livings at banks, brokerage houses, and trust companies headquartered in Manhattan. Any blindness in Connecticut to the frailty of its finances is as close as one can get to a state version of the 2009 subprime real estate crisis.

As for Connecticut's public employee unions, their campaign contributions have so corrupted state legislation that towns are almost helpless to control worker salaries and benefits. There is, in fact, a statute — the "minimum budget requirement" — which prohibits most school districts from reducing their spending whenever the student census drops.

Little more than a quarter century ago, Connecticut was widely known as "the Switzerland of New England." There was no state income tax, and corporations in nearby New York happily crossed the border to establish headquarters in Stamford. Today, in the aftermath of a union-dominated legislature and an absence of rigorous bondholder oversight, the U.S. Census Bureau shows Connecticut losing population at an accelerating rate. If any state must go under as a lesson to all the others, let it be the one that can not only tolerate it best, but also deserves it most.

Dr. Andrews was executive director of the Yankee Institute for Public Policy from 1999 to 2009. He is the author of To Thine Own Self Be True: the Relationship between Spiritual Values and Emotional Health (Doubleday).
I don't actually have an issue with what Andrews has to say, in terms of "letting" Connecticut go bankrupt.
Thing is, Connecticut already is bankrupt, de facto. And there's no federal process for allowing a state to go bankrupt, as in, having a legal process through federal courts to discharge debts and start afresh.
I have issues with any such federal law being created. I am not a lawyer, much less a constitutional scholar, so I don't want to argue that specific point. I also don't want to argue the likelihood of getting a federal bankruptcy bill for states through the current Congress and President.
What states can do is default on their bonds and other obligations. And yes, they can be sued, but here's the deal:
Have wondered the same. Very low because: 1) GOP, Dems would likely hit stalemate on it. 2) State sovereignty, 10th Amendment may block it. https://t.co/SxuWuh1OCO

— Nathan Bomey (@NathanBomey) June 1, 2017
I'm w/ NathanBomey</a> -Will be no federal procedures for state bankruptcies. States, tho, are &quot;free&quot; to default on obligations. &amp; they will.</p>&mdash; Mary Pat Campbell (meepbobeep) June 1, 2017
That's where it gets messy. If Illinois ever defaults, expect legal chaos. Can federal court force a state to pay? What happens to pensions? https://t.co/ZBfMm1z6wT

— Nathan Bomey (@NathanBomey) June 1, 2017
I don't think the Feds can do anything to make a state spend money it doesn't have. Funny how federalism works.

— Mary Pat Campbell (@meepbobeep) June 2, 2017
You can try to sue entities like states all you want. It's hard to collect if 1. they don't have the money and/or 2. the political will is such that you won't be paid.
WHEN WILL ANYBODY EVER LEARN?
But my main objection to Andrews' "pour encourager les autres" reasoning is that we've already seen multiple examples where nobody learned. (Yes, I know I've argued this already, but I'm gonna keep doing it.)
Prichard, Alabama: Huh? What? Where?
Central Falls, Rhode Island: Meh. Just a small place.
Detroit: Well, there was the corrupt Kwame Kilpatrick, and it was a basket case…
Stockton and San Bernardino, California: one never kept good records to begin with, and aren't these run down places? Or something?
Greece: Oh, those Greeks. What does that have to do with us?
Puerto Rico: corruption corruption colonialism corruption
Excuses are made for why all these things are different, and similarly, excuses will be made if Connecticut actually defaults. I'm guessing something about income/wealth inequality.
They're all stuck in can't-fail thinking.
Because they thought that pensions could not fail in reality, that gave them incentives to do all sorts of things that actually made the pensions more likely to fail. Because, after all, the taxpayer could always be soaked to make up any losses from insane behavior.
That extends beyond pensions to public finance in general. It could never fail, right — there's all these rich taxpayers who can be soaked indefinitely!
Whaddya mean "wanna bet"?!
That's a lesson lots of people, not only politicians, don't want to learn.
So it's a nice idea to think that CT defaulting on its bonds and pensions will have salutary effects in the rest of the nation, but I really don't see Illinois, California, or New Jersey cleaning up because Connecticut has gone under.