by meep
I see I made a post back in March about Chicago shootings noting Chicago went a week without a fatal shooting!
That didn't last very long.
JULY 4 FESTIVITIES
Chicago police express frustration after more than 100 shot in violent Fourth of July weekend
Note, not all 100 were fatal shootings.
The Chicago Police Department says it is conducting "a very comprehensive review" after the city experienced one of its most violent Fourth of July weekends in recent years, with at least 102 people shot between late Friday afternoon and early Wednesday.

"We're doing a debriefing," said chief police spokesman Anthony Guglielmi. "The mood here is frustration."

The review will include an analysis of how "amateur fireworks" might have affected the ShotSpotter system, which captures audio of gunfire and attempts to pinpoint its location for quicker deployment of officers. The system is deployed in the Englewood and Harrison districts, traditionally among the city's most violent.

"It's perplexing," Guglielmi said. "We deployed some very successful tactics over the Memorial Day weekend." Yet those same tactics did not seem to work as well over the Fourth holiday.

Fifteen people were killed and 87 others were wounded. Nearly half the shootings occurred in the last 12 hours of the long holiday.

The last time the Fourth holiday spanned four full days was in 2013, when July 4 fell on a Thursday and many people had Friday off. At least 74 people were shot between Wednesday evening and early Monday that year, and 12 of them died, according to Tribune data.
A July 5 report on a couple of the fatalities:
Double homicide in Roseland: 'The dead don't bother me. … But that's close to home'

The woman stood across the street from her home in Roseland wearing Hello Kitty slippers and a green-striped nightgown, her hair pulled back into a silky bonnet.

Keeping her from her house was the body of a dead man lying at the bottom steps of her porch in the 11100 block of South Eberhart Avenue. Another man was dead on the ground in the alley behind the home near a detached garage.

They were friends of her son who had been over for the Fourth of July holiday, she said. They were standing outside just before 1:20 a.m. Wednesday when shots were fired from a black SUV, according to police.

Two others were also shot, the woman's 29-year-old son in the wrist and a 37-year-old man in the arm. They were among more than 100 people shot across Chicago over the long Fourth of July weekend.

"The dead don't bother me. I'm a CNA (certified nursing assistant). But that's close to home. That is home," said the woman, 48, who did not want her name published.
….
The woman said she had been falling asleep on her sister's couch in the same block when the shooting happened. She said she heard the shots but didn't realize they were so close until one of her sons called.

It was difficult to distinguish the sound of gunfire from fireworks, said Ywain Fields, who was parked on 111th talking to his girlfriend on the phone when the attack occurred.
Fireworks may be a part of what went wrong:
As part of its review of what happened over the weekend, the department is looking at how fireworks may have interfered with the ShotSpotter system, a relatively new technology the department hopes to expand.

The spotters register a shooting and deploy cameras in the direction of the shots while officers are deployed. Analysts at the district station look at the data in real time to decide what steps to take next. Guglielmi called it "micro-deployment."

The department is also reviewing calls for service, particularly as the weekend ended. "A lot of incidents happened in a short amount of time. We're also looking at that. We did typically see it (violence) where we typically see it."

A lot of the shootings appeared to be over "petty disputes that escalated into somebody pulling out a gun." He mentioned some examples: A shooting in Smith Park that started as an argument over where people were sitting; a confrontation between a driver and bicyclists on State Street, with the driver getting a gun from his trunk and officers intervening.

He said a "handful" of shootings were "retaliatory .. People drinking all day and then things escalating … It's just enormously frustrating."

A total of 1,300 extra officers were deployed over the long weekend through 6 a.m. Wednesday. The additional officers came from the summer mobile teams, organized crime units and area saturation teams. "I don't think lack of resources was an issue."
Well, fireworks may be why they weren't able to locate the shootings quickly, that is. I doubt fireworks caused people to shoot each other.
ABOUT LAST WEEKEND
Well, part of the weekend.
30 people shot, 3 fatally, in 18 hours in Chicago:
Thirty people were shot, three fatally, during a violent 18-hour period from Saturday to Sunday in Chicago, which included a police-involved shooting and an attack outside Mount Sinai Hospital.

In the Lawndale neighborhood, a woman's voice echoed as she voiced her frustration at the scene of a double shooting that left a 31-year-old man dead and another man wounded.

"They know it's a drug house," she yelled out at the police and crowd that had gathered. "They don't give a (expletive). I do. I'm tired of this (expletive)."

…..
Shooting outside Mount Sinai Hospital

A man was shot Sunday as he walked toward Mount Sinai Hospital, restricting the city's access to a quarter of its trauma resources for about three of the weekend's most violent hours, according to police and hospital personnel.

The 31-year-old man was shot in the groin area about 3:35 a.m. as he was walking in the 2700 block of West 15th Street in the Douglas Park neighborhood. It wasn't immediately clear how close he was to the building when he was struck down by gunfire, said Dianne Hunter, a spokeswoman for the hospital.

A police spokeswoman said she believes the man was taken inside the hospital and treated. He was listed in serious condition, she said.

Hunter said the hospital immediately went on lockdown and the shooting prompted the hospital to go on bypass, meaning dispatchers informed all ambulance companies that drivers were not to take patients to Mount Sinai, which is one of four adult-only level 1 trauma facilities inside city limits, according to information from the Illinois Department of Public Health. Both the lockdown and bypass designations were lifted at 6:28 a.m., she said.
More plain details on the shootings at the link.
A few very depressing details:
Anti-violence activist among dead in another weekend of Chicago shootings
An anti-violence activist was among those killed in a weekend of shootings on the streets of Chicago, according to police.

Ten people have been killed, and 37 wounded across Chicago since Friday evening, ABC Chicago station WLS-TV reported, with community activist William "Willie" Cooper, 58, and a 9-year-old boy among the dead.

…..
'The person people came to … when they needed help'

Price, of Pray Chicago, told ABC News that he frequently visits the scene of shootings in the city to offer help to families who are affected by them, and frequently crossed paths with Cooper.

He said he was "very surprised" to learn of Cooper's death after arriving at this one.

"He was the person people came to in the neighborhood when they needed help," Price said. "He was the person people would reach out to as things have gotten dicier on the streets of Chicago."

In addition to helping teens find jobs, Price said, Cooper was focused on "diffusing violence" and would serve as a mentor to young people who sought out his guidance.

Price said he worries that Chicago's endemic violence is not close to being eradicated.
Here's what I find confusing. This is what the homicide numbers – raw, not rates – look like: Number of homicides from 1957 – 2016:
Look guys, something clearly happened between 2015 and 2016. That is getting back to totals from the 1990s. And Chicago's population is not as high as in the 1990s. There was a huge increase in homicides between 2015 and 2016.
ADDITIONAL: I covered murders during Chicago's deadliest year in decades – here's what I saw [if you want to get extremely depressed.]
WHY DID HOMICIDES SPIKE?
What's Causing Chicago's Homicide Spike?:
The problem is real: 762 people were murdered in Chicago last year, a stunning 58 percent jump in homicides from 2015. So large was the sharp, sudden increase in homicides in one of America's largest cities that it tangibly raised the entire nation's homicide rate higher for 2016. But nobody really knows why it's happening.
Well, that's helpful.
Some of the hypotheses are stupid — educational spending?! COME ON. No, it wasn't weather. No, guns didn't become easier to get.
I see this bit:
Even the data on one of the most obvious possible causes—a sudden shift in policing tactics—offers little clarity. Street stops had been in steady decline since early 2014, when they peaked at 80,000 stops per month. By October 2015, they reached 60,000 per month and then plummeted sharply to 10,000 stops by December 2015. At first glance, that would seem to correlate with the sudden surge of in 2016.

But the full picture isn't as clear. Chicago experienced a confluence of events in late 2015 that could also have played a role. The Chicago police released a video of the shooting of Laquan McDonald on November 24, 2015, sparking protests throughout the city and heightened national scrutiny. Thirteen days later, the Justice Department opened an investigation into Chicago's police practices. The city then agreed to complete an additional report after every street stop on January 1, the same day a state law came into effect that added further restrictions. "It's not a clear-cut story of the police no longer policing," Kapustin noted.
Okay, it's not entirely fair — they note that NYC didn't have the same problem when they stopped stop-and-frisk.
But it's mentioned time and again — most of the homicide increase for the entire U.S. in 2016 was driven by that huge Chicago increase.
Example stories:
Chicago Is Responsible for Almost Half of the Increase in U.S. Homicides
Murders Up in U.S. Cities–But Crime Rate Still Near Record Lows
762 murders. 12 months. 1 American city.
GRAPHING A NASTY TREND
I'm grabbing data from Hey Jackass!, my favorite site for all Chicago shootings. The site itself has stats going back to 2011. I wish I had an easy access to a data dump, but as it is, I'm going to focus on the month-to-month stats on homicides. Not all are shootings, but about 90% are homicide via gun.
I'm having to eyeball some of the stats off of graphs, so the numbers may not exactly match what he has. I used the Wayback Machine to get others. I also used data from DNA info — I will note that the numbers from the two sites are close, but not equal. I believe Hey Jackass is more comprehensive, but the point is that small differences will necessarily be expected.
I'm doing it month-by-month, because there is a seasonal/weather effect for shootings: less in February, more in August.
So here are the numbers, from 2011 to YTD 2017:
Observations:
- Homicides in 2016 are well above the other years in the set, and 2017 has similar numbers so far.
- Yes, there's a seasonal effect.
It's difficult to see what's going on in this graph, though. Let's check out a cumulative graph:
Observations:
There are obvious groupings of years:
- 2011, 2013, 2014 are similar-looking, with the lowest numbers for the year
- 2012 and 2015 are somewhat similar, though 2012 was clearly worse
- 2016 and 2017 look very similar thus far, and 2016 is far worse than the other years
But one point in particular: I see that the slope of 2015 speeds up around September 2015. I wonder if we can capture that change in some way — after all, time is continuous, not starting over again each January.
CATCHING THE TREND WITH MOVING AVERAGES
One method I use for trying to capture trends, especially if there can be seasonality to them, are one year (or 12 month) moving averages. Rather than compare the years by starting over each January 1, I have a 12-month window that slides along and I calculate the averatge number of homicides per month.
This way, I always have a full year's worth of data, meaning the seasonality issue should get wiped out. Some of the natural volatility in the data are also wiped out (assuming a Poisson process with a seasonal component, yadda yadda).
And we should be able to eyeball about when homicides started to rise in general.
Here's the graph:
The increasing trend definitely caught on by January 2016 – when the average exceeded the prior maximum. Past January 2016, there does seem to be a phase shift — the slope increases rapidly as does the number of homicides.
The good news, such as it is, is that there has been a plateau since January 2017. Again, we see that the 2017 homicides are about the same as 2016's.
WHAT TO DO?
I don't know. Doesn't seem many others know, either.
Bratton: There's no easy fix for Chicago's crime rate:
Retired NYPD Commissioner Bill Bratton said Sunday there's "no quick fix" for Chicago's horrific murder rate and handed out blame to just about everyone involved in policing the Windy City.

"Chicago has a number of special sets of circumstances," Bratton told interviewer John Catsimatidis, on "The Cats Roundtable" radio show on AM 970. "It is a department that has really cut back on its assertive policing."

…..
At least 368 people have been murdered in Chicago this year alone, through Friday night.

By comparison, New York City – with three-times the population of Chicago – had 135 slayings through July 9.

With morale cratering in the Chicago PD on every murder, Bratton said cops are leaving the job and making it harder for any kind of stability,

"They lost quite a few officers through attrition over the years. There is no quick fix for Chicago," he said.
One of the really big problems is how many murders do not get solved at all:
CHICAGO — Just before Christmas, Tywone Lee dialed the Chicago Police Department detective charged with investigating the murder of her 18-year-old son, who was gunned down in July just blocks from their West Side home.

She's called police more than 20 times since her child, Keyon Boyd, was fatally shot in the chest and two of his friends were wounded July 26 as they walked to play basketball at a nearby court in the city's Austin neighborhood. Most of her attempts to get information about the unsolved case ended with her leaving messages that rarely were returned, she said.

On this day, she catches the detective, but receives no substantive information about the status of the investigation.
…..
Boyd was one of more than 750 murder victims killed in Chicago in 2016, which will end as the bloodiest year the city has seen since at least 1997, when 761 people were killed. The murder toll was up 58% as of Christmas Day, with the city tallying 275 more murders than the same time last year.

Nearly as unnerving as the number who have been killed in Chicago this year is how few of the assailants have been arrested.

The department's murder clearance rate — the calculation of cases that end with an arrest or identification of a suspect who can't be apprehended — has hovered at or below 30% for the past three years. The national clearance rate stood at 61.5% last year, while Chicago's clearance rate was 25.6% last year, according to data compiled by the Virginia-based Murder Accountability Project.

…..
Mayor Rahm Emanuel and Johnson have also complained that repeat gun offenders are getting out of jail too quickly and contributing to the bloodshed. About 40% of homicide suspects arrested in Chicago last year had previously been convicted of a weapons offense, Johnson said.

The spike in violence comes as the Chicago Police Department has struggled through a tumultuous year following the court-ordered release in November 2015 of police video showing a white officer fatally shooting Laquan McDonald, a 17-year-old black suspect who was fired upon 16 times as he appeared to be running away from police.
No, it's not necessarily a cause-effect of the McDonald video, but given the moving average we see above….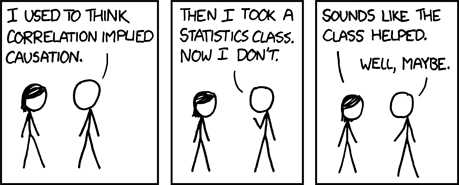 As the hover-text says:
Correlation doesn't imply causation, but it does waggle its eyebrows suggestively and gesture furtively while mouthing 'look over there'
The timing of the uptick is extremely suggestive.
I have seen it remarked that some other localities have had large upticks in murders: The Murder Rate Jumped Again In 2016. A Handful Of Cities Are Largely Responsible.
A new report from the Brennan Center for Justice at New York University School of Law says Americans are "safer today than they have been at almost any time" in the past quarter-century, but projected an 8 percent increase in the nationwide murder rate.

…..
The report finds that just a few U.S. cities played an outsized role in the nationwide uptick in the murder rate in recent years and had a distorting effect on the overall murder rate. Three cities ― Baltimore, Chicago and Houston ― "account for around half of the increase in murder in major cities between 2014 and 2016," the report says.

In the 30 largest cities in the country, the murder rate increased by about 14 percent from 2015 to 2016, but Chicago alone "was responsible for 43.7 percent of the rise in urban murders in 2016," according to the report. (There were more than 700 murders in Chicago last year, making it the deadliest year the city had seen since 1996.) The murder rate jump in certain cities, such as Chicago, is "indicative of localized problems in some cities, but not evidence of a national crime wave," the report states.
The stats are much better for Chicago, because of it being so much larger and better-covered the other ones.
The McDonald video, of course, is related only to Chicago, but Baltimore and Houston have had their own problems. Baltimore had the Freddie Gray trials, with a bunch of not guilty verdicts against cops in May – June 2016. Freddie Gray's death had been ruled homicide in May 2015.
Houston has a problem (no, I'm not trying to make a joke) that goes back years.
This doesn't seem to be a nationwide problem, but involves issues specific to particular cities. As noted earlier, the even larger cities of New York and Los Angeles don't seem to have had a jump.
The main point here is that sometimes one needs to look at the data from different angles to catch when a shift happens.
Related Posts
Mortality Nuggets: Life Expectancy, Worldwide COVID Deaths, Homicides, and More
Mortality with Meep: U.S. Excess Mortality by Age Group in 2020, Absolute and Percentage
Movember Campaign -- Prostate Cancer and Suicide Prevention