by meep
Yes, it got repealed a bit ago, but it officially died Dec. 1
Sweetened Beverage Tax Set To Expire Friday
CHICAGO (CBS) — Cook County's sweetened beverage tax becomes history at midnight, and store managers and shoppers alike are pleased.

Whether they admit to drinking pop or not, shoppers say...
by meep
The following came to my attention yesterday morning:
My response:
by meep
Okay, I was just gonna drop the soda tax, just like Cook County did.
Cubs' Joe Maddon compares plate-blocking rule to recently-repealed Chicago soda tax

Joe Maddon and the Chicago Cubs did not have a great Saturday night in their 5-2 loss to the Los Angeles Dodgers in...
by meep
When I saw the news come in:
County Board moves to kill pop tax
Bowing to the political tide, the Cook County Board has taken the first step toward junking the penny-an-ounce tax on soda pop and other sweetened beverages.

The board's Finance Committee voted 15-1 to repeal the levy after hours...
by meep
As per my last soda tax post, the Daley defection was pretty much a death knell for the Cook County Soda Tax.
And more have defected:
Cook County soda tax to be repealed next week
The controversial Cook County pop tax is poised to fall flat.

After months of wrangling, a "bipartisan" deal...
by meep
So I'm starting this post on October 5, when Preckwinkle's Cook County budget is supposed to be released.
But it's early in the morning, so let me go trolling for some stuff.
POLITICAL HEAT
I never expected the soda tax to be a wedge issue.
Life comes at you fast.
by meep
Well, we already knew Bloomberg was shelling out loads of money to support the Cook County Soda Tax.
But now we have an Eric Allie cartoon for it.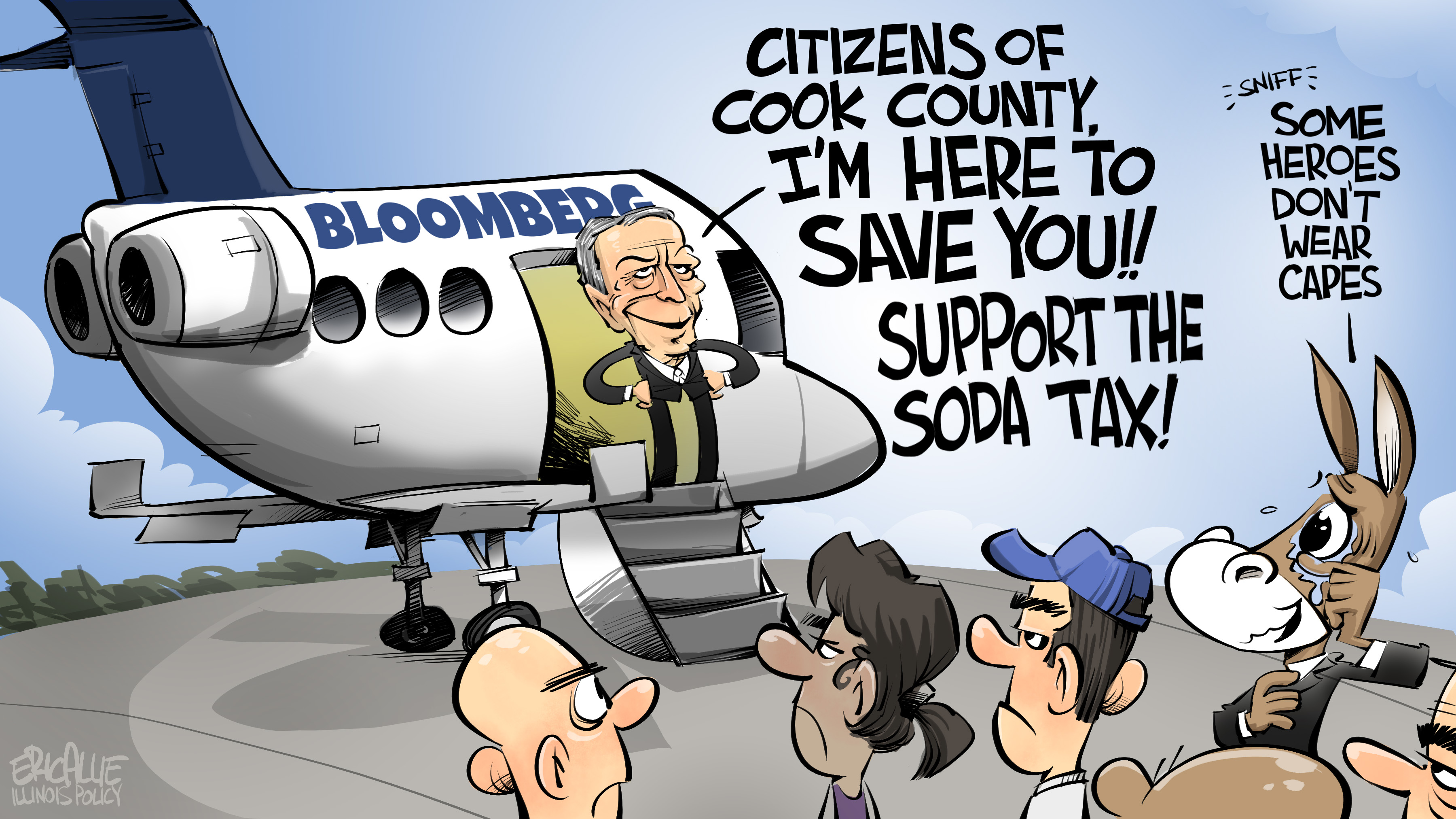 But here's something amusing to me:
PLEASE, PRECKWINKLE, DON'T CUT SPENDING! NOT THAT!
This has got...
by meep
Today's Illinois theme is escape.
Running away, walking away, whatever it takes.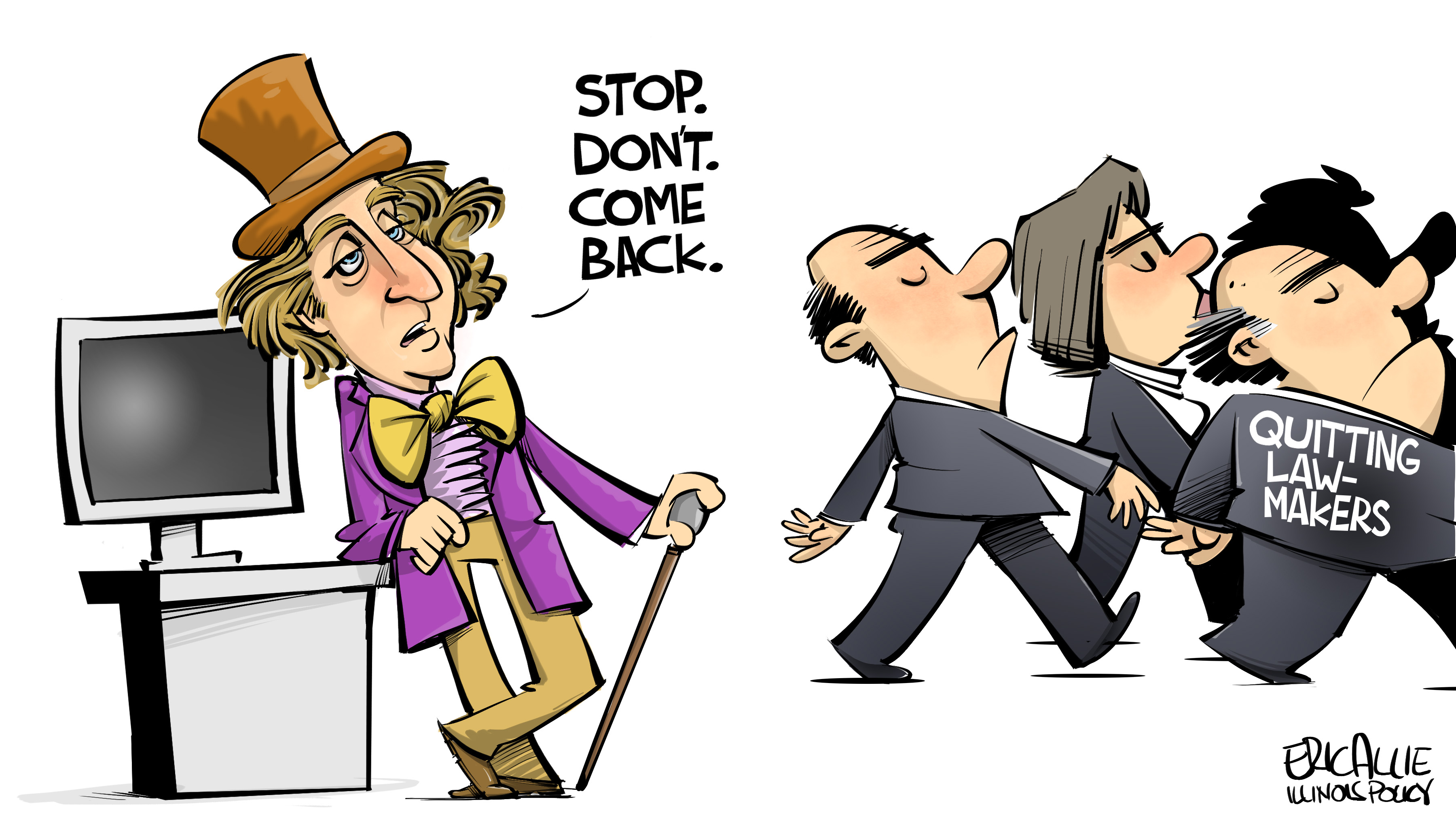 POLITICIANS LEAVING
ILLINOIS LAWMAKERS STAMPEDE FOR THE EXIT
The most likely driver is pretty obvious to most Illinoisans: the rage of constituents.

Thirty state lawmakers in the 100th...
by meep
I saw the following story via Wirepoints yesterday.
Are gov hopeful Biss's claims of math prowess pi in the sky?
State Sen. Daniel Biss touts his background as a mathematician as he campaigns for governor, calling himself the "Skinny Math Man" ready to tackle the state's hardest problems.

But it turns...
by meep
Well, for as long as it lasts, at any rate.
(and yeah, I was working on a California post, but I'm tired. So I'm going for fun!!!!!)
What We Know (and Don't) About Soda-Pop Taxes
The Cook County soda tax has proven remarkably...