by meep
This is not my quarterly 80% fundedness update. This is driven by an incredibly stupid thing said by a politician (of whom I have little expectation) and by someone who really should know better.
And it was in multiple news stories.
KANSAS, I DON'T THINK WE'RE SAFE
by meep
This stupid trick comes courtesy New Jersey, which has been chock full of stupid pension tricks for years.
They've issued billions in pension obligation bonds.
They've gone chasing returns alternative assets to try to make up for undercontributions.
So now… what?
LET'S MONETIZE THE LOTTERY!
by meep
Today's trick is courtesy California, where Governor Jerry Brown had the bright idea of throwing extra money into the California pension hole.
THE PLAN
Political Road Map: Here's how (and why) the state is making a $12-billion pension payment next year
If you're a homeowner, you've likely had someone suggest...
by meep
THANK GOODNESS.
Alaska governor halts sale of pension obligation bonds
:
Alaska Governor Bill Walker has called off the planned sale of up to $3.3 billion in state pension obligation bonds due to a lack of support from members of the state senate, he said on Tuesday.

Low oil prices...
by meep
Before we get to the current groups considering putting on those Bad Idea Jeans, here are prior posts on pension obligation bonds: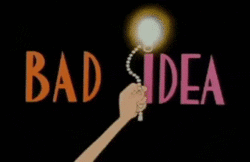 by meep
With one of the pieces being completely unfunded:
Malloy Proposal To Split CT Pensions Could Save System

Gov. Dannel P. Malloy's plan for avoiding fiscal catastrophe in 17 years by rejiggering the state employee pension system may be the only realistic option. But it's hard to know without more details.

It's concerning,...
by meep
I have written before of why Pension Obligation Bonds (POBs) are of the devil.
People may think I'm being cutesy-poo, or trotting out some quaint Southernisms (when I start talking about a Come to Jesus meetin', then yes. I'm using a Southernism. Go here for more Southernisms.)
But I...
by meep
First, let's look at this recent item: actuaries miscalculated contribution for Milwaukee County pension fund.
The Milwaukee County Pension Board's actuarial consultant set the 2015 payment to the employees' pension fund too low by a whopping $19.5 million, the consultant admits in a new report.

The difference will have to be...
by meep
In yesterday's post, I mentioned that yield-hungry muni investors might want to hang fire when Chicago issues bonds in the coming weeks.
Why did I say that?
Whle the Illinois Supreme Court ...
by meep
I just saw this announcement about an updated list.
State Budget Solutions put out its most recent list of tricks used to hide the true cost of public pensions. It builds upon their list from 2013. Policymakers and key advisors use many of the tactics they identified to confuse or...